Your wedding day is one of your life's most special and memorable, and finding the perfect wedding dress is a significant part of that experience. With so many options available, it's important to consider and plan the process carefully.
Know Your Body Shape and Style
Understand Your Body Shape
Take time to understand your body shape and identify the styles that flatter your figure. Whether you have an hourglass, pear, apple, or rectangular shape, there are dress silhouettes that will enhance your best features.
Explore Different Styles
Research different wedding dress styles, such as ball gown, mermaid, A-line, or sheath, and determine which ones resonate with your style and vision for your wedding day. Consider factors like the neckline, sleeve length, and fabric choices.
Set a Budget and Start Early
Set a Realistic Budget
Determine a budget for your wedding dress and accessories, and stick to it. Factor in alterations and any additional costs associated with your gown.
Start the Search Early
Begin your wedding dress shopping at least 9-12 months before your wedding date to allow enough time for ordering, fittings, and alterations. It ensures you can find the perfect dress without feeling rushed.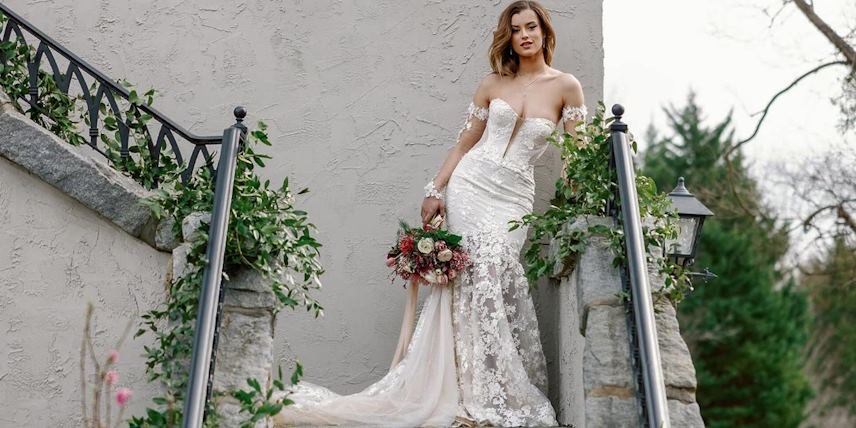 Do Your Research and Visit Bridal Salons
Research Bridal Salons
Look for reputable bridal salons in your area and read reviews to understand their quality and customer service. Make appointments at a few different salons to maximize your options.
Communicate Your Vision
Share your wedding style, preferences, and any specific details or features you want in a dress with the bridal consultants. They can guide you toward dresses that align with your vision.
Try on Different Styles
Be open to trying various styles, even ones you may not have initially considered. Sometimes a dress that surprises you can be the perfect one.
Bring Supportive People and Trust Your Instincts
Bring a Supportive Entourage
Choose a small group of supportive family members or friends to accompany you during your dress appointments. Their opinions can provide valuable insight and help you make a decision.
Trust Your Instincts
While it's helpful to receive opinions from others, trust your instincts and choose the dress that makes you feel beautiful and confident. It's your special day; you should feel comfortable and happy in your gown.
Consider Alterations and Accessories
Plan for Alterations
Remember that most wedding dresses will require some alterations to achieve the perfect fit. Factor in alteration costs and schedule fittings accordingly.
Explore Accessories
Consider enhancing your wedding dress with veils, belts, jewelry, or hairpieces. These elements can add a personal touch and complete your bridal look.