9-12 Months Before the Wedding
Book the Venue
Secure your ceremony and reception venues. Consider availability, capacity, and the overall ambiance you desire for your wedding.
Hire Key Vendors
Start booking essential vendors such as the photographer, videographer, caterer, florist, and wedding planner if desired. Research and meet with multiple vendors to compare services and prices.
Start Dress Shopping
Begin the exciting process of finding your dream wedding dress. Schedule appointments at bridal boutiques and allow ample time for alterations.
6-9 Months Before the Wedding
Choose the Wedding Party
Select your bridesmaids, groomsmen, and other wedding party members. Notify them of their roles and responsibilities.
Send Save the Dates
Send out save-the-date cards to inform guests about your upcoming wedding and allow them to mark their calendars.
Plan the Decor and Theme
Decide on the overall theme and color scheme for your wedding. Start working on the details of the decor, including centerpieces, linens, and lighting.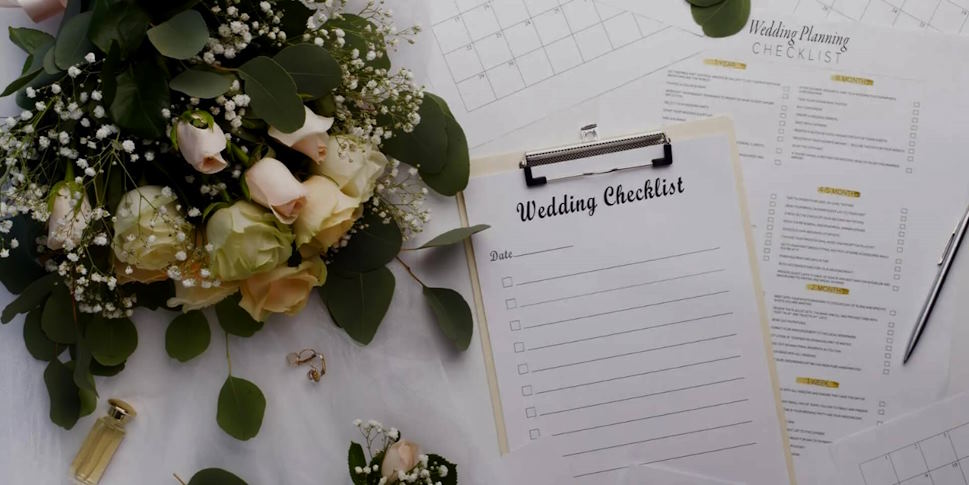 3-6 Months Before the Wedding
Order Invitations
Design and order your wedding invitations, RSVP cards, and other stationery. Ensure they match your chosen theme and include all necessary information.
Finalize the Menu
Meet with your caterer to finalize the menu options for the reception. Consider dietary restrictions and offer a variety of choices to accommodate all guests.
Arrange Transportation and Accommodation
Arrange transportation for you and your wedding party on the wedding day. Also, reserve hotel blocks for out-of-town guests.
1-3 Months Before the Wedding
Send Invitations
Mail out the wedding invitations, ensuring they reach guests with ample time for them to RSVP.
Finalize Details with Vendors
Confirm all the details with your vendors, including timelines, special requests, and any specific arrangements.
Plan the Ceremony
Work with your officiant to plan the script, choose readings or music, and determine any special rituals or traditions.
2 Weeks Before the Wedding
Final Fittings and Alterations
Schedule your final dress fitting and make any necessary alterations to ensure a perfect fit.
Create a Day-of Schedule
Collaborate with your wedding planner or coordinator to create a detailed schedule for the wedding day, including hair and makeup appointments, photography sessions, and the ceremony timeline.
Confirm Details with All Vendors
Reach out to each vendor to reconfirm all details, including arrival times, setup requirements, and any last-minute changes.
Wedding Day and Beyond
Relax and Enjoy
On your wedding day, take a moment to relax, enjoy the experience, and soak in the joy of the celebration.
Thank You Notes
After the wedding, send out personalized thank-you notes to express your gratitude to family, friends, and vendors who contributed to your special day.
Handle Legal and Financial Matters
Update your name, if applicable, and ensure that all legal and financial matters related to the wedding, such as changing your address, are taken care of.