Your wedding reception is an opportunity to create an unforgettable experience for you and your guests. Choosing a unique theme and incorporating creative decor elements can add a touch of personality and make your celebration truly memorable.
Vintage Elegance
Vintage-Inspired Decor
Create a romantic ambiance with vintage-inspired decor elements such as lace tablecloths, antique candle holders, china, and mismatched vintage furniture.
Soft Color Palette
Opt for a soft and muted color palette with pastel shades like blush, mint, or dusty blue. Incorporate these colors into your table linens, floral arrangements, and signage for a cohesive vintage look.
Whimsical Lighting
Enhance the atmosphere with delicate string lights, chandeliers, or vintage-inspired lamps. Soft, warm lighting will add a touch of nostalgia and create a dreamy ambiance.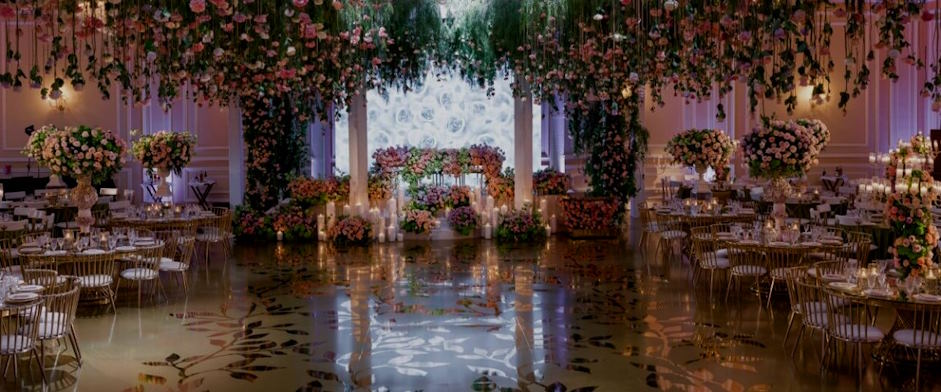 Rustic Chic
Natural Elements
Embrace the beauty of nature by incorporating rustic elements such as wooden tables, burlap accents, and natural greenery. Use wooden crates, barrels, or tree slices as table centerpieces.
Wildflower Bouquets
Opt for wildflower bouquets and arrangements for a relaxed and organic feel. Use mason jars or vintage vases as flower containers to enhance the rustic charm.
Cozy Lounge Areas
Create cozy lounge areas with vintage furniture, plush cushions, and throw blankets. It will encourage guests to relax and enjoy the rustic charm of the venue.
Enchanted Garden
Flower-Filled Decor
Fill your reception space with abundant blooms and lush greenery. Hang floral installations, create cascading centerpieces, and incorporate flowers into every decor aspect.
Garden-Inspired Colors
Choose a color palette inspired by blooming gardens, such as soft pinks, lavender, and green. Use these colors in your table settings, linens, and floral arrangements to bring the garden theme to life.
Outdoor Dining
Consider an outdoor reception to immerse your guests in the enchanting garden atmosphere fully. Set up long banquet-style tables with floral runners for a whimsical dining experience.
Glamorous Art Deco
Opulent Decor
Incorporate luxurious and glamorous elements like gold accents, crystal chandeliers, and plush velvet furniture. Create a backdrop with a large art deco-inspired mirror or a vintage-inspired bar setup.
Geometric Patterns
Use art deco-inspired geometric patterns in your invitations, table linens, and signage. Incorporate them into your cake design or table centerpieces for a cohesive look.
Jazz-Inspired Entertainment
Enhance the glamorous atmosphere with a live jazz band or a swing dance performance. Create a dance floor with a black and white checkered pattern for an authentic art deco touch.