When planning a wedding, choosing the right colors and theme can significantly impact your special day's overall look and feel. Modern couples often seek trendy and unique elements to infuse their wedding with personality and style. This article explores some of the latest wedding color palettes and popular themes among modern couples. From bold and vibrant hues to minimalist and elegant designs, let's dive into the world of trendy wedding colors and themes that will make your celebration unforgettable.
Color Palettes
Blush and Burgundy
This romantic color combination pairs soft blush tones with deep, rich burgundy hues. It creates a sense of elegance and sophistication, perfect for a modern, romantic wedding.
Dusty Blue and Sage Green
The combination of muted, dusty blue and calming sage green creates a tranquil and dreamy ambiance. This palette is ideal for couples seeking a serene and natural aesthetic.
Jewel Tones
Embrace vibrant jewel tones like emerald green, sapphire blue, amethyst purple, and ruby red. These colors add a luxurious and opulent touch to your wedding, creating a visually stunning experience.
Neutral with Metallic Accents: Combine neutral tones like ivory, beige, and taupe with metallic accents such as gold, silver, or rose gold. This palette offers a modern and sophisticated look, allowing metallic elements to add a touch of glamor.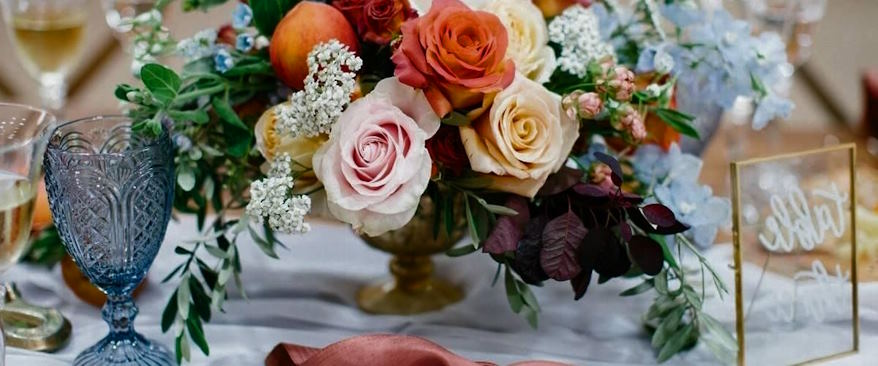 Wedding Themes
Bohemian Chic
Embrace a bohemian-inspired theme with relaxed and organic elements. Incorporate natural textures, such as macramé, woven fabrics, rustic wood, wildflower bouquets, and dreamcatchers.
Industrial Elegance
This theme combines industrial spaces' edgy and raw elements with elegant and refined touches. Think exposed brick walls, metallic accents, hanging Edison bulbs, and lush floral arrangements.
Garden Romance
Create an enchanting garden-themed wedding with lush greenery, blooming flowers, and whimsical decor. Incorporate elements like floral arches, fairy lights, and outdoor seating areas to evoke a sense of romance and natural beauty.
Minimalist Sophistication
A minimalist theme offers timeless elegance for couples who appreciate the simplicity and clean lines. Opt for a neutral color palette, sleek decor, and minimalist floral arrangements to create a sophisticated and modern atmosphere.
Personalizing Your Colors and Themes
Mix and Match
Don't be afraid to combine different colors or themes to create a unique and personalized look. Experiment with various combinations and find a balance that reflects your personality as a couple.
Infuse Personal Touches
Incorporate meaningful elements that hold significance to you and your partner. It could be incorporating cultural traditions, displaying personal photographs, or including your favorite quotes or song lyrics in the decor.