Your honeymoon is the perfect opportunity to relax, unwind, and embark on an unforgettable adventure as newlyweds. It's a time to celebrate your love and create beautiful memories that will last a lifetime. With so many incredible destinations to choose from and endless possibilities for experiences, planning your honeymoon can be an exciting yet overwhelming task.
Top Honeymoon Destinations
Bora Bora, French Polynesia
Known for its stunning turquoise waters, overwater bungalows, and pristine beaches, Bora Bora offers a romantic and luxurious escape. Experience snorkeling, scuba diving, and indulge in spa treatments for the ultimate relaxation.
Santorini, Greece
With its picturesque white-washed buildings, breathtaking sunsets, and stunning views of the Aegean Sea, Santorini is a dream destination for couples. Explore the charming villages, savor local cuisine, and unwind in luxurious accommodations.
Maldives
The Maldives is a tropical paradise with crystal-clear waters, vibrant coral reefs, and secluded private resorts. Enjoy romantic walks along the pristine beaches, indulge in spa treatments, and participate in watersports activities.
Bali, Indonesia
Bali offers a unique blend of natural beauty, vibrant culture, and spiritual serenity. Immerse yourself in the lush landscapes, visit ancient temples, experience traditional Balinese spa treatments, and explore the vibrant markets.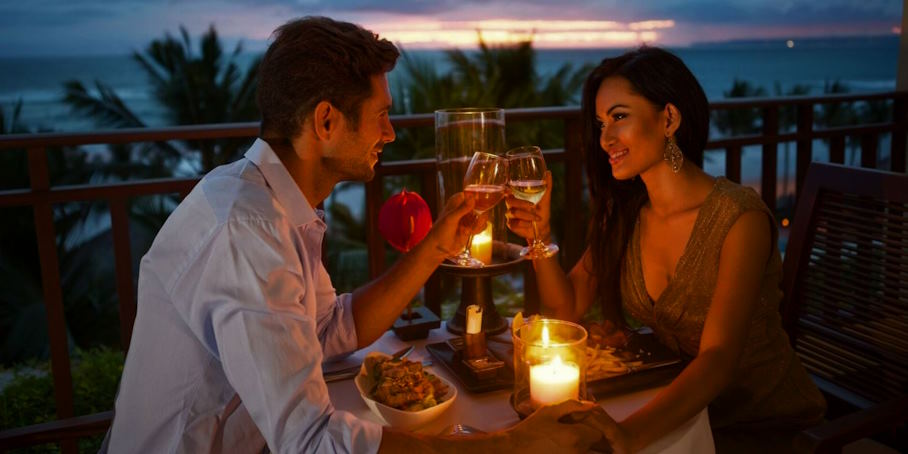 Tips for Planning Your Honeymoon
Determine Your Budget
Establish a realistic budget for your honeymoon early on. Consider all expenses, including flights, accommodations, meals, activities, and additional costs. It will help you narrow down your destination options.
Consider Your Interests
Discuss your preferences and interests as a couple. Are you looking for relaxation on the beach, adventurous activities, cultural experiences, or a mix of everything? Choose a destination that aligns with your interests.
Research the Best Time to Visit
Look into the weather conditions, peak tourist seasons, and any special events or festivals in your desired destinations. It will help you choose the ideal time to visit, considering factors like weather and crowd levels.
Plan Ahead
Make bookings and reservations well in advance, especially for popular destinations or activities. It includes flights, accommodations, tours, and any special experiences you want to enjoy during your honeymoon.
Seek Recommendations and Reviews
Read reviews, seek recommendations from friends and family, and consult a travel agent. They can provide valuable insights and suggestions based on their experiences.
Personalize Your Itinerary
Tailor your itinerary to suit your preferences and desired experiences. Incorporate activities and excursions that you both enjoy, whether exploring local cuisine, engaging in adventure sports, or simply spending quality time together.
Don't Overplan
While having a well-thought-out itinerary is important, it allows for flexibility and downtime. Leave room for spontaneity and relaxation to truly enjoy each moment without feeling rushed.