A beach wedding provides a stunning and picturesque setting for your special day but also requires careful consideration when it comes to makeup. The combination of sun, sand, and sea breeze demands a makeup look that is natural, long-lasting, and sun-kissed. Enhancing your natural beauty and radiant glow is key to looking effortlessly beautiful amidst the beach elements. In this article, we'll share some essential makeup tips to help you create a fresh, sun-kissed look that complements the beach wedding vibe.
Prep Your Skin for the Sun
Hydration is Key
Moisturize your skin with a lightweight and hydrating sunscreen. Look for a product with broad-spectrum protection to shield your skin from harmful UV rays.
Skip Heavy Foundation
Opt for a lightweight and breathable foundation or a tinted moisturizer to even out your skin tone without feeling heavy. Choose a formula with a dewy finish for a natural and luminous glow.
Embrace Soft and Beachy Eyes
Neutral Eyeshadows
Use soft and neutral eyeshadows in earthy tones to create a beachy and effortless look. Consider shades like sandy beige, warm bronze, and soft peach to enhance your eyes without overpowering them.
Waterproof Mascara
Choose a mascara to prevent smudging and running, especially if there might be tears of joy or splashes from the ocean breeze.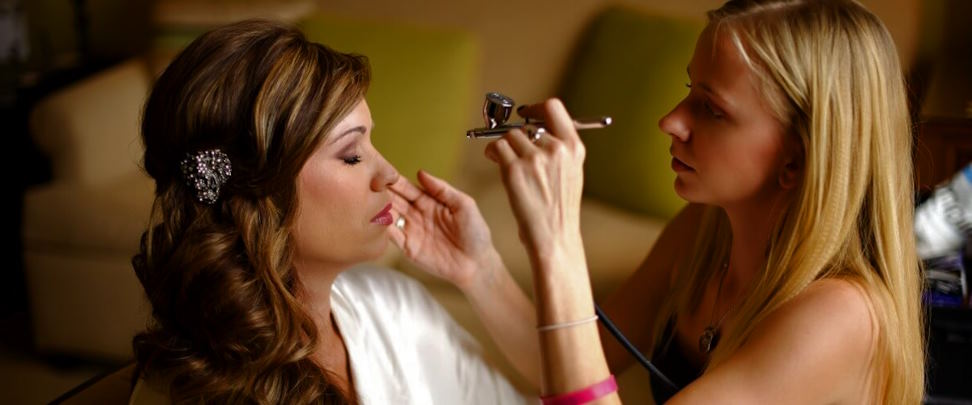 Sun-Kissed Cheeks and Lips
Bronzer
Add a bronzer to your cheeks, forehead, and jawline to achieve a sun-kissed glow. Opt for a matte bronzer that complements your skin tone and apply it with a light hand for a natural look.
Cream Blush
Use a cream blush in a coral or peach shade to mimic a healthy flush. Cream formulas blend seamlessly into the skin, providing a fresh, radiant appearance.
Tinted Lip Balm
Keep your lips hydrated with a tinted lip balm in a soft pink or coral hue. Tinted balms add color while moisturizing and protecting your lips from the sun.
Long-Lasting Tips
Set with Translucent Powder
Dust a light layer of translucent powder on your T-zone to control shine without compromising your dewy finish.
Setting Spray
After completing your makeup, spritz a setting spray over your face to lock in your beach-ready look. Setting sprays with a dewy or luminous finish can add an extra touch of radiance.
A beach wedding calls for a makeup look that is natural, sun-kissed, and long-lasting. Prepare your skin with hydration and sunscreen, opt for lightweight and dewy makeup products, and embrace soft and beachy eye and lip colors. Bronzer, cream blush, and tinted lip balm are your allies in achieving a fresh and radiant look. With these makeup tips, you'll look effortlessly beautiful as you say "I do" amidst the picturesque backdrop of the beach.