Vintage-inspired weddings have an enchanting charm that takes us back to a bygone era. From glamorous hairstyles to timeless makeup looks, there's something undeniably romantic about embracing the elegance of the past. If you're planning a vintage-themed wedding, incorporating classic hairstyles and makeup looks can help transport you and your guests to a different time. In this article, we'll explore vintage-inspired hairstyles and makeup ideas that will add a touch of nostalgia and sophistication to your wedding day.
Classic Hairstyles
Finger Waves
This iconic hairstyle from the 1920s exudes elegance and glamor. Finger waves can be achieved by molding the hair into S-shaped waves using fingers, a comb, and some styling products. Whether you wear your hair down or in an updo, finger waves create a stunning vintage look.
Victory Rolls
Popularized in the 1940s, victory rolls are a playful and retro hairstyle. They involve rolling sections of hair inward and securing them to create defined pin-up-style rolls. Victory rolls work beautifully with updos or half-up, half-down styles, adding a touch of vintage flair.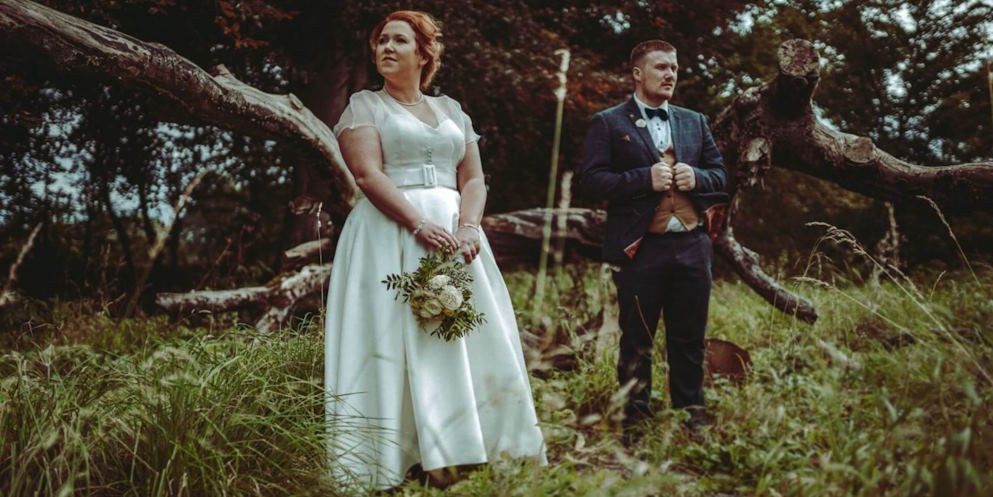 Timeless Makeup Looks
Classic Red Lips
A bold red lip is a quintessential vintage makeup look. Opt for a timeless shade of red that complements your skin tone and pair it with minimal eye makeup for a statement look. Remember to line and fill your lips with a lip liner to ensure a precise and long-lasting application.
Winged Eyeliner
Winged eyeliner is a staple of vintage makeup. Achieve a perfect flick by using a liquid or gel eyeliner and following the natural shape of your eyes. The winged eyeliner adds a touch of drama and sophistication to your overall look.
Accessorize with Vintage-Inspired Details
Birdcage Veil
A birdcage veil adds a touch of vintage elegance and mystery. This short veil, typically made from netting, can be attached to a hair comb or clip and positioned to cover a portion of the face. It pairs beautifully with retro hairstyles and uniquely charms your bridal look.
Statement Hair Accessories
Complete your vintage-inspired look with statement hair accessories such as jeweled hair combs, vintage-inspired brooches, or delicate floral hairpins. These accessories can be incorporated into your chosen hairstyle or used to embellish a classic updo or half-up style.
Vintage-inspired weddings offer a chance to embrace the timeless elegance and glamor of the past. Don't forget to accessorize with vintage-inspired details like a birdcage veil or statement hair accessories to enhance the overall vintage aesthetic. Whether inspired by the roaring 20s or the glamorous 40s, these vintage beauty ideas will help create an enchanting and timeless look for your special day.